Featured article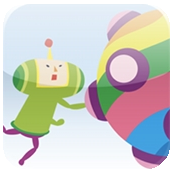 I Love Katamari (塊魂モバイル), Katamari Damashii Mobairu?, lit. "Clump Spirit Mobile") is a third-person puzzle-action video game published by Namco for the iOS. It is a continuation of the Katamari Damacy series of games. It was released worldwide in the App Store on December 14, 2008 (2008-12-14). In this game, the King of the Cosmos instructs the game's protagonist — the Prince — to gather as many objects as possible to grow a highly-adhesive ball called a Katamari large enough so that he can pick up special objects to bring to the King so that he can regain his memory. In March 30, 2015 it was removed from the Apple Store.
Read the full article on I Love Katamari.
View all featured articles.
Featured media
BEautiful Katamari - BOYFRIEND A GO GO
View all featured media.
What's new on Katamari Wiki
New Logo + Wiki Chat Removed by Tritnew0
Hey everyone, a brand new logo has been made for the wiki! It's minimal, something The King wouldn't particularly like, but it fits with the new look of REROLL. Hope you like! In other news, the Wiki chat has been removed, since we'll be migrating to Discord some time soon-ish. Not many people use traditional chats anymore like the Wikia chat or Skype, Discord is the new thing.
Polls and other things will also be added to the wiki to make users have more reason to contribute.
Tritnew0 - Miso is best cousin. (talk) 22:20, July 29, 2019 (UTC)
View all news.
Contents
Helping out
We need articles! If you have an idea for an article, just put in the title here.
Not sure where to start?
Adding content
Talk and more...
Check out the community portal to see what the community is working on, to give feedback or just to say hi.
Stop by the Discord server and talk with other Katamari fans about the series, the wiki, and other Katamari related topics, and remember to read the Chat Rules.
Community content is available under
CC-BY-SA
unless otherwise noted.