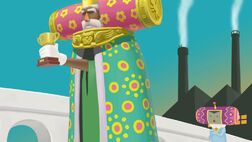 Papa, also known as the Former King of All Cosmos, Emperor of All Cosmos, or Mr. Cosmos, is the previous King, the father of the current King of All Cosmos, the father-in-law of the Queen, and the grandfather of the Prince.
He was a very tough, no-nonsense man who wanted his son to become a top competitor and champion. However, after the King lost a boxing match, placing second, he took the second place trophy and threw it into a river. This created tensions between him and the King, ultimately resulting in a fight where Papa punched the King in the back of the head, disapproving of his newfound romance with the future Queen, in which the King responded by punching his father, knocking him to the ground, where he slid backward into a flower pot. who then simply walked away calmly.
However, Papa loved the King very much, and was proud of his near-victory. After seeing that he still had the second place trophy that Papa had thrown into the river but seemingly fished out, the King apologized to Papa and the two reconciled and became much closer. Introducing him to his girlfriend, the future Queen, Papa spent time with them until he suddenly became ill, collapsing on the beach, to the horrors of both his son and the Queen. It was at this point he realized he could no longer serve as King. One snowy night, the bedridden Papa called the King and the Queen to his room, where he suddenly passed the crown to his son, as it landed on his head. The King and was shocked and astonished as the Queen looked on in amazement, but Papa grinned, giving his son the thumbs up and approval to be his successor before he slumped forward motionless. He fell dramatically to his bed, as if dying. The King and the Queen quickly rushed to his side, but were both relieved as he only fell asleep.
The story of Papa and the King is shown in the We Love Katamari Cutscenes.
Papa appears to only have one arm, which is shown to be coming from the center of his body.
In Me & My Katamari, Papa appeared as a collectible item, standing in the very center of the ocean at the final stage of the Royal Monument level. He later reappeared in the Cosmos during the Chateau Norte Desir level of Beautiful Katamari. He can be seen flying around in space, and eventually can be rolled up and added to your Collection.
Papa is also depicted on the Beautiful Katamari playing cards, available for beating the Beautiful Katamari Memory Game on the Katamari website.
Papa also appears in Tap My Katamari, alongside the Queen, celebrating when his grandson, the Prince, completes a stage.