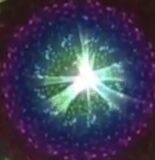 The Supergiant is a star in space that can be created in various stages in the Katamari Series. The Supergiant is first created in Beautiful Katamari it can be created in the Schloss Kosmos and is created again in Wake up The King! in Katamari Forever. Creating the supergiant results in plugging or rolling up the Black Hole in the Cosmos.
Appearance
The supergiant looks like a white spec in the Cosmos, it radiates a white light and has a rainbow aurora. The satellite for the supergiant is a smaller version of the star, it radiates a yellow light and has a yellow aurora.
Descriptions
This giant star actually came from a giant katamari that rolled up the King a while back.
This planet grew up so fast, it has nothing much on the inside.
It's good to be big.
This giant planet has been around for a long, long time. It's famous for its giant insects.
Trivia
In the collection, the star is shown as just a white speck, and has no rainbow aurora.
Community content is available under
CC-BY-SA
unless otherwise noted.