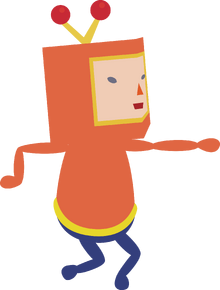 Hello, I come from the Uncle Grandpa wiki and is currently the only real admin still alive there, I come to this wiki to focus my time and update pretty much everything that needs to be filled in. I want to bring this wiki up to code just like how I did with the Uncle Grandpa Wiki, nice, neat and organized..
If you need any info about any the games, cousins, or anything katamari related, I'm the guy since I've played mostly all the games!
If want to know anything about me, my first katamari game I played was Katamari Amore and my first console game was Beautiful Katamari. I first found out about katamari through Pac-Man World Rally, and at first I didn't think much of it and just passed it off as weird, until someone had commented about another game I liked, Tasty Planet and described it as being a katamari-like game. This intrigued me and I looked up katamari for the first time and upon looking at what I considered weird, my mind instantly fell in love with it. From then on I enjoy katamari for what it is, and in more time to come, I will always love it..
My favorite cousin is Shikao, my first pick for any game.
Other Cousins that I like and would consider playing as: