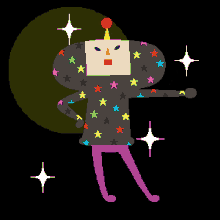 Heyo, I'm Tritnew, but you can call me Miles too. I'm a sort of "expert" with Katamari music and I know a thing or two about my Katamari lore, and I'm now the proud owner and admin of this here wiki.
About Me
I'm a pretty chill, calm person with a weird sense of humor and a love for weird Japanese games that don't get talked about much (like Katamari or PaRappa) and just games in general, and music too.
I've played the first three Katamari games, and only beat two. I own Katamari Damacy, but I'm hoping to own them all physically, and get the legit systems to play them on. But PCSX2 and PPSSPP will have to do.
I'll try and do as much as I can to help improve and grow the Katamari Wiki, and if you have any questions about anything Katamari related, especially with the music, go ahead and shoot me a message on my Message Wall!
Been a fan since May 2019.
My Favorite Games
In no order.
MOTHER/EarthBound
Katamari
Super Mario (just Nintendo games in general)
Sonic The Hedgehog (used to be a fan, still really like the games though)
Pac-Man
Crash Bandicoot
Spyro
Earthworm Jim
DOOM
Quake
Duke Nukem
Serious Sam
Wolfenstein
And tons more.
My Favorite Musicians/Bands
Nine Inch Nails
The Beatles
Gorillaz
Pink Floyd
Black Sabbath
Queen
David Bowie
Ozzy Osbourne
Led Zeppelin
Blur
And tons more.
Favorite Katamari Characters
Favorite Royal Family Members
Love 'em all, but these are my favorites.
The King of All Cosmos - From the sassy and funny asf dialogue to his design overall (except Touch My Katamari, he looks awful in it), he's one of my favorite characters ever.
The Prince - Tied with The King, I love this little guy.
The Queen of All Cosmos - There ain't much to her character, but she seems pretty chill and probably treats The Prince way better, also really like her redesign in REROLL, it's cute.
Favorite Cousins
I don't play favorites with Cousins generally, I love using them all, but here's my favorites anyways based on designs and cute and coolness factor. Excluding The Prince 'cause we all like him obviously.
Community content is available under
CC-BY-SA
unless otherwise noted.